The platforms that are usually used to simply showcase our assets and materialistic achievements have now been found to be more a business gem to small scale businesses to large, household names brands. Instagram and Snapchat features, such as the filter and lenses, may seem that it is simply for our enjoyment but brands have used their creative intellectual abilities to rather create their brand identity and create successful brand campaigns. It is vital to know exactly how they have been utilised in order to produce the same results.
Instagram Stories
Instagram's Stories feature on the app stirred a new interest for users as it meant that they could include more personalised content which would only last 24 hours. Buff Social described this as "a bold move to encourage its users to create and share more content on the platform". Although the features are extremely similar to the Snapchat stories, if not an exact replica, Instagram has included adverts from various companies which play automatically as you swipe through the stories. This means that there is now a new medium for brands to advertise their products and services. Brands will now have to have even shorter and more engaging video content to avoid consumers swiping away their advert.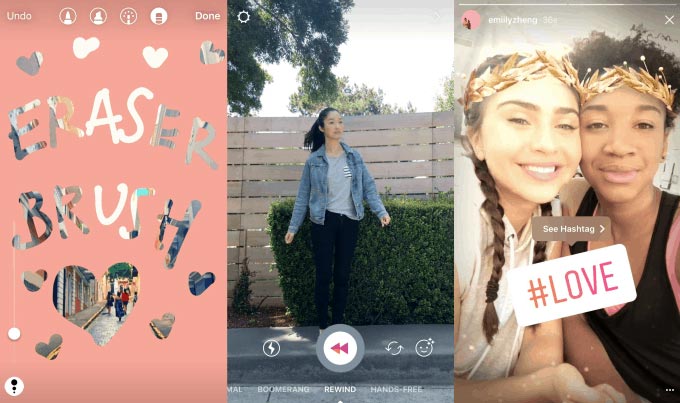 Source: Tech Crunch
The Instagram story feature also includes the infamous Geo Filters for various locations. This can be beneficial for brands during their press, launch and marketing events as it can help their consumers to know the exact location of the events, as well their followers being able to post content from the location they are in.
So how can this be beneficial for brands?
Swipe Up & Links – Instagram stories enable users to add links to their stories where the viewer can swipe up on their screen and they will be redirected to an external link. This is particularly useful for brands looking to create or increase traffic to a certain part of their website, especially during their campaign periods.
Live Stream – The Instagram story also enables users to have live stream videos. The best part about this is that this feature is absolutely free meaning brands will not have to find an external live stream website, thus being able to save the costs of social media promotion. Brands and influencers can create live stream videos from any location as well as have the live stream video available to view for at least 24 hours on their story. This can mean that the consumers get a more realistic outlook on the outcome of events, thus stirring an interest for them to attend their upcoming events.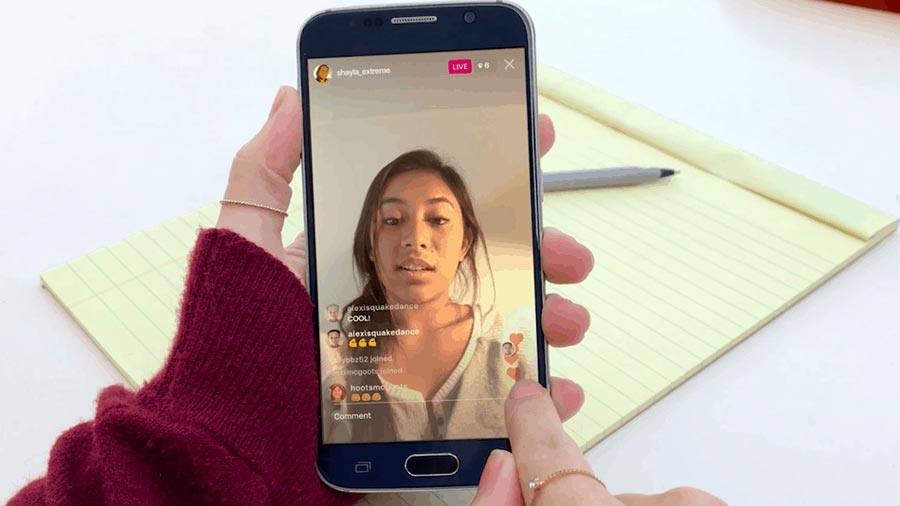 Source: Mashable UK
Takeovers – Many brands, particularly clothing and makeup brands have begun to have social media takeovers whereby an influencer, such as TV personalities, Bloggers and Social Media personality's etc. where the brand influencer would post on content on the brands Instagram story using their products or service. For instance, the influencer may post 'A Day in the life' Instagram story whiles wearing their product and will add various filter and geo filters, thus displaying the product in a much more desirable light. This feature also helps to increase traffic as the followers of the influence are likely to watch the videos that are being posted and thus create an increase in brand's potential consumers.
It is clear that there is more to discover when it comes to the Instagram stories than we may think. Brands must begin to identify how so many free app features can change the success of their brand, in a more efficient way than they ever expected.
Snapchat Geofilters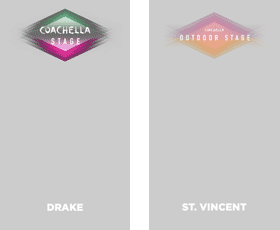 The Snapchat Geofilter has more value than what many of us seem to actually understand. As well as more engagement, brands that use the Geofilters are actually also concerned about certain societal values. For instance, the W Hotels Geofilter was put in place to celebrate the Pride
According to Event Brite, W hotel incorporated an element of CSR into the campaign by donating $1 to the Human Rights Campaign for every user. This is even a great way to see how many of their hotel guests are active on social media during certain periods of the year, thus helping them to see how they can promote their brand on social media platforms, for up and coming campaigns they might have.
Coachella also utilised this feature for their annual music festival in Los Angeles, California. Unlike most brands that usually have one general Geofilter for the whole event, Coachella decided to create different Geofilters for each act performing on different stages. The Geofilters varied in each geo-fence area and the filters changed throughout the day.
Overall, it is clear that these social media platforms seem to always create a new function which ensures that they do not become an obsolete tool that was once popular. Instagram and Snapchat's attempt to keep it alive and thriving is actually creating more ease for brand's to utilise for their online promotion. Therefore, brands must be able to quickly identify the vast extent to which all these tools can be used to run successful campaigns through.
Read our post about social media trends for 2017 here!