As we enter the last month of 2016, it's time to reflect and start planning your social media marketing strategy for the coming year. Despite all those that questioned the power of social media and thought it was 'simply just a fad' it's clear that social media marketing is here to stay.
Before we move on to what 2017 has in store, let's take a look back at some of the most significant launches throughout 2016…
Facebook
Facebook Live Videos – Broadcast to the largest audience in the world with the camera in your pocket
Marketplace – A convenient destination to discover, buy and sell items with people in your community
Instant articles – Instant Articles make it easy for news publishers to deliver fast, interactive articles to their readers in the Facebook mobile app
Lower organic brand exposure – Facebook latest algorithm update prioritises posts in newsfeeds that come from users' friends & family members. By contrast, the visibility of posts made by brands & organisations, especially content publishers, is going to decrease
Reactions – Giving more ways to share your reaction to a post in a quick and easy way
Twitter
Moments – Curated stories showcasing the very best of what's happening on Twitter
The (partial) end of the 140 Character Limit – Making changes to what counts towards the 140 character limit such as @names in replies & media attachments meaning more valuable characters
Customer Support – Enabling businesses to tell users they provide help on Twitter, indicate when they're most active, and ensure people know they have the option to send them a Direct Message
Instagram
Stories – Share all the moments of your day, not just the ones you want to keep on your profile. Multiple photos and videos appear together in a slideshow format: your story
Business Tools – Inspire people visually with your businesses' story. Tools include new business profiles, analytics & the ability to create ads from posts directly within the Instagram app
Snapchat
Memories – Easily save and share old photos
Bitmoji – Create customised emoji's of the user itself and then use them on their Snapchat account
Geostickers – Stickers themed to your current location that you can resize and move around just like any other stickers or emoji in your snaps, or just send them in chats. On-demand geostickers are available & perfect for business events
Spectacles – Smart glasses that records video of the world from your point of view & then relive it again in Snapchat
But social media is evolving quickly. Just as you think you're getting the hang of it, …It changes again. So what does 2017 have in store for us social media marketers?
The rise of live streaming video
As the world of social media rapidly evolves, it becomes more and more difficult for businesses to fight amidst the noise in order for their voice to be heard. So what better way to stand out and connect with your audience than video?
Whilst YouTube was a sensation in 2004 by allowing us to record, upload and view videos, we are now able to broadcast to the largest audiences in the world with the camera on the smartphones in our pockets. Allowing users to enjoy and capture any live moment and share this experience with friends and family.
An effective video strategy has been proven to help you boost online business, whether that's through better engagement rates on your social media channels, higher conversion rates in your e-commerce store, increased brand awareness through online videos ads, or attracting passers-by to your business location.
Is it time to embrace Chatbots?
We're already starting to see chatbots becoming an essential part of customer service queries by offering flexibility in order to automate tasks and help with retrieving data. Powered by artificial intelligence, these chatbots can answer basic questions regarding a specific subject, offer advice and can even be programmed to message you at specific time intervals during the day.
Remember JARVIS from Iron Man who controlled everything in the house as well as assisting Stark with his superhero-ing? Well we're not quite there yet however similar technology is now available & businesses are taking advantage. By successfully making a chatbot work for your business or marketing campaign, you could potentially see rapid increases in profitability due to gains in time and productivity whilst rates of customer satisfaction should also receive a boost. Take a look at how Channel 4 used a Facebook bot to promote their new series of Humans.
Influencer Marketing On Social Media
As the power of social media continues to grow, consumers are no longer looking at companies or businesses to influence their purchase decisions. Ohh no… the new influencers are friends, family, celebrities or favourite personalities that dominate the internet with their massive followings across major social media platforms.
An influencer has the ability to change behaviours when it comes to purchasing decisions, with a large social following and a highly engaged audience. Influencer marketing aims to harness the influence of key individuals across social media platforms to meet a business goal by building mutually beneficial relationships.
So how can you jump onto this social influencer trend in the upcoming year?
Define your online audience
Discover the right influencers
Monitor influencers for new opportunities
Take action & engage
Measure your results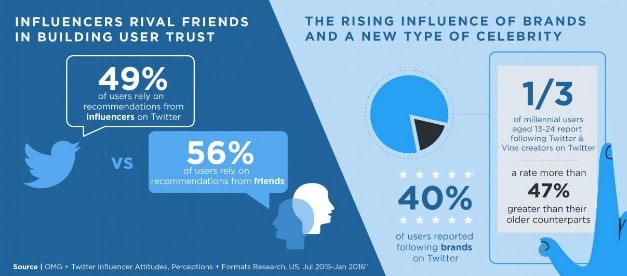 Organic Social Traffic Gets Increasingly Harder
Major social media channels such as Facebook & Instagram are removing chronological timelines and newsfeeds causing organic reach to decline unless you dig into your pockets. Is paid social media the way forward?
So what's the reason behind this algorithm update? Well the goal of newsfeeds is to show users the stories and events that are most relevant to them and with social media constantly growing all these posts need to be ranked with family and friends first. If the ranking isn't quite right then this results in poor engagement and users will eventually leave dissatisfied.
Paid advertising provides new opportunities to reach out beyond your existing followers to the wider audience using your chosen social platform.
In the past few years social media has moved beyond a "nice to have" for businesses and is now a "must have". With more social platforms available than ever and more complex algorithms and functionality, it is easy for businesses to get a bit confused when it comes to their own strategy.
If you're in that situation, get in touch with our social experts today.