Before you start asking, no, summer isn't here yet and although we do like a refreshing alcoholic beverage (in moderation), this post has actually nothing to do with that.
What we're talking about here is a simple and effective process to deliver your digital projects successfully. Following the PIMS process, you should be able to keep your business focused while achieving your objectives.
Here is how it works: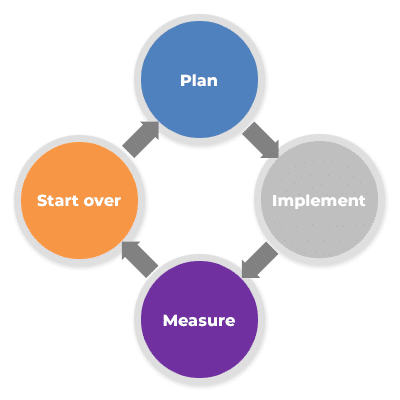 P is for Plan
Planning is key to most business activities, and the same rule applies for digital and search marketing. And planning very often means designing a structured strategy that will allow you to allocate resources and meet objectives.
In order to plan your work and projects and draw a good strategy, there are 3 questions you should ask yourself:
Where is the business now? Current status of your business
Where do I want it to be? Set goals and objectives
How do I get there? Define the methods and tools that will allow you to take your business further
For online businesses, some objectives may be to grow online sales by 20% in a year, increase website traffic, increase leads….and tools to get there could include SEO, PPC, and email marketing among others.
I is for Implement
Once you've planned your work and defined your strategy, then you can start implementation. While this may seem simple, implementation is often trickier than it seems due for example to limited resources (financial, time or human), technical limitations and choice of suppliers.
One common example of implementation questions are around SEO and PPC. Do you do it yourself or do you outsource it to an agency. If you decide to go in-house, do you have the budgets and knowledge necessary to achieve your goals? While your plans will give you a framework to build on, you'll need to think carefully about how you implement each element of your strategy to ensure you get the best Return On Investment (ROI).
There are once again some things you should check before implementation:
What resources do you have? Do you have enough staff, time and budgets to achieve your objectives
Which tools do I use? In SEO there are hundreds of tools available, some better than others, so if you're going in-house, make sure you use the best you can afford. The same goes if you're building a new website, choosing the right content management system (CMS) from the start could really make your life easier in the future
Prioritise the work and be flexible – be ready to change your strategy and implementation plans if your business environment changes or if a channel doesn't deliver as much as it should
M is for Measure
One of the things we love most about digital marketing is that pretty much every activity is measurable in some way. So whatever you do to grow your business, make sure it performs as expected and will allow you to achieve your objectives.
This of course doesn't mean that you should be afraid to try new things as search and digital marketing are not exact sciences and trial and error is sometimes necessary to identify stars among your marketing channels.
Measuring performance of your various marketing activities has become much easier in recent years thanks to some really great tools:
Google Analytics – learn everything there is to know about your website visitors and customers while monitoring campaigns, social media activity, testing content and improving conversions
Customer relationship management tools (CRM) – most large businesses rely on expensive CRMs to manage their business flow, from initial enquiry to conversion and after sales service. These tools are extremely powerful and there are now a range of online based CRM available to smaller businesses for limited costs. Essential if you really want to manage your sales process efficiently, and very powerful when used in combination with web data
SEO tools – monitor your rankings, review your links and identify new sources and do some competition benchmarking
Start over
That's it, you've planned, implemented and measured the performance of your digital marketing activities…so start over!
Following the same structured process over time will allow you to refine your marketing and achieve even greater results by creating a virtuous circle for your online business.
If you need help with your digital marketing strategy or simply would like us to give you an idea of how we could help with SEO, PPC or social media to achieve your objectives, contact us.