If you follow digital news you will certainly have heard of Google's latest mobile friendly algorithm update back on April 21st. Nicknamed Mobilegeddon by some, this update is certainly big news as it is one of the largest updates since 2011 and even made national news (see the BBC's view on it) So what is all the fuss about, how can you find out if your website is going to be affected, and what are the solutions to keep your search engine traffic strong.
What is the google mobile friendly algorithm update?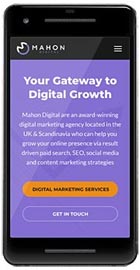 With mobile searches overtaking desktop searches for the first time ever this month (more on this story here), Google was bound to take a closer look at how mobile friendly websites are to establish its rankings. After all, the aim of Google is to provide its users with accurate and relevant search results no matter the device they use. The latest algorithm update will favour mobile friendly sites in the search results pages on mobile phones.
This is a very important point to remember, the update only affects rankings for searches on mobile phones, not on tablets or desktops. So if a user does a search on their smartphone, with all other things being equal, a site that is mobile friendly will now show up higher in the results pages than a site that is not mobile friendly, giving them a better chance to drive traffic.
How do I know if my site is mobile friendly?
Don't worry, Google's got a tool for that. Just head over to Google's Mobile Friendly Webmater Tool, type the URL of your site, and voila! Google kindly provides you some advice about your website mobile friendliness and how to fix it if issues are found
What can I do if my site is not mobile friendly?
If you site is deemed as not mobile friendly by Google, don't panic. The update is still rolling out across the world so there's still time to fix issues. If your site doesn't meet Google's mobile friendly criteria, the first thing to do is to speak to your developer (if you have one) or to whoever built your website for you as they should be able to point you in the right direction.
There are basically 2 options when it comes to mobile friendly sites:
Create a dedicated mobile site where users will be redirected to when trying to access your site from a mobile phone
Make your current website "responsive" – this simply means that all the elements of your pages will be able to resize properly and display well on any screen sizes, including mobile phones
Responsive design is the most commonly used method, and the one we'd recommend, as it means you only need to maintain one website and it also makes search engine optimisation easier. Costs for making a website responsive vary depending on the complexity or your website and the functionality involved, but if mobile traffic is critical for your business, then it is definitely well worth the money.
And if your website is starting to get dated, making it responsive is also an opportunity to look at a fresh design in line with your audience's expectations. If you're still confused about mobilegeddon or would like to discuss mobile friendly options for your business, do get in touch.
About The Author
Etienne is the Head of SEO here at Mahon Digital and he's been involved in the digital & search marketing industry for over 12 years now, working for small family owned businesses as well as international FTSE 500 companies. He's passionate about all things digital, but more specifically about digital & search strategy and marketing analysis.