Background
The client was in the process of launching a new website and wanted to move away from using lead generation websites to driving leads directly through their own site.
We proposed using Google Ads – both search and display – and Facebook Ads to generate leads and attempt to outperform the CPA from the 3rd party lead generation sources (£75).
Plan
We liaised with the client and their developer to implement good practice from an SEO perspective, as organic traffic was very small even prior to the new site launch. Tracking was implemented to allow lead tracking in Analytics and the Ad engines.
The client had ambitious targets for monthly leads, increasing each month. We created a plan for the achievement of these based on the limited conversion data available from their very low traffic. A flexible budget split between Google and Facebook Ads was proposed, which would allow budget to be utilised where performance was better.
The ad campaigns were launched almost immediately the new site was live. We monitored site performance in Hotjar and Analytics to give feedback on site optimisation, once the traffic was ramped up by the ad campaigns.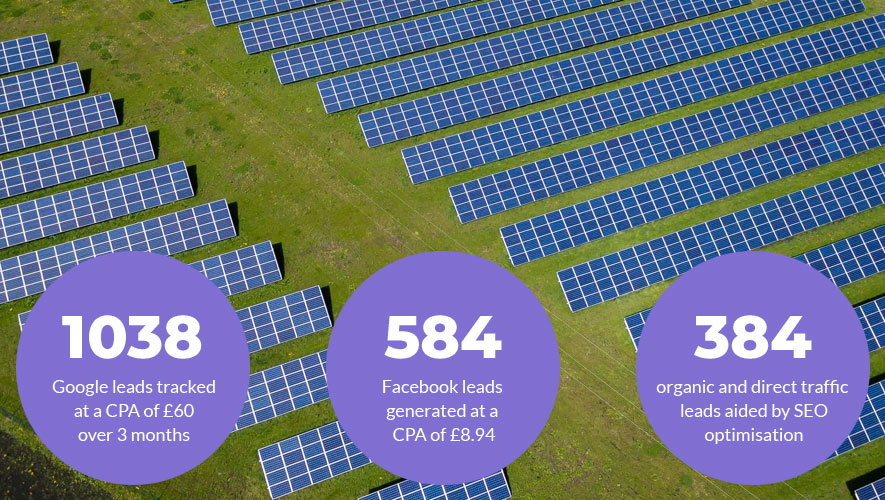 Google Ads
Search campaigns based around solar power terms were created, to target the low end of the conversion funnel. This was supplemented with a remarketing campaign to target previous visitors, and a display campaign to show ads to audiences likely to be interested in solar power. A postcode database was used to try and target higher income areas where properties and income would be most likely to intersect with potential customers.
Ongoing monitoring and optimisation of the campaigns with a focus on CPA generated leads in excess of the broad estimates we had made based on the limited data available before launch.
Over the 3 month period the campaigns were running, 1038 leads were tracked at a CPA of £60.

Facebook Ads
To allow ease of tracking and decrease the steps involved in collecting leads, we opted to use Lead Ads within Facebook. A range of audiences were chosen to try and target the people most likely to be interested in solar power for their homes.
During the period the campaigns were running, Facebook Ads generated 584 leads, at a CPA of £8.94.

Other Traffic
As a side effect of the ad campaigns and aided by SEO optimisation, organic and direct traffic grew appreciably during the campaign period, generating an additional 384 leads.
This chart shows organic traffic growth: