The digital world may seem a bit daunting for a small business, looking to build up their presence online. Since the launch of the World Wide Web in 1990, the online world has grown rapidly, now forming a huge part of our daily life, playing a role in almost everything we do.
If you're a business looking to enter the online world for the first time, you might wonder where to start. Do you need a flashy, expensive website? Should you use paid marketing channels? Should you hire a professional to help with your online endeavours?
As a Digital Marketing Agency, we strongly believe that some aspects of online marketing should be left to us, the professionals! With a wealth of experience, and training we are well equipped to achieve the best results. Through paid and search marketing channels, we have the knowledge and experience to achieve the best possible return on investment for your business. However, there are a number of smaller steps that are simple enough to take yourself, with great business benefits.
We'll get onto that later, first, let's run through some of the reasons for building an online presence!
Why should I take my business online?
To Generate Sales! – As a business, this is always going to be your end goal, and all of the remaining reasons will all play a role in making more money in the long term!
To Connect with Customers – The online world is the perfect place to build relationships with clients, via online messaging or posts, content sharing, receiving reviews, or responding to questions.
To build your Brand – No matter how small your business, you can afford to build a website, social media profile, and other online efforts to raise awareness. You'll also build up a good reputation within the community.
To Be More Accessible – Your online business isn't limited by store opening hours or your own working schedule. By getting online, customers can find out about your business, and reach you at any time.
For Credibility – Nowadays, a lot of customers will expect to find your business online, in order to find out more information about you, and perhaps read reviews. Without an online presence, customers are less likely to trust you and subsequently may not invest in your product or service.
So there are many great reasons for getting online. If your business isn't already active in the digital world, we expect you'll be wondering now, how can I get involved?
How can I get my Business Online?
1) Google my Business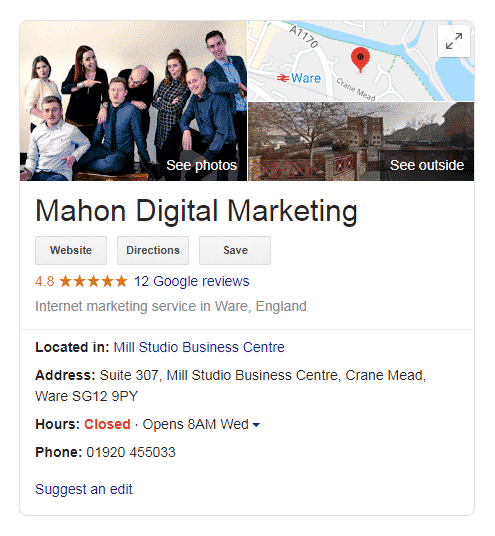 Want to get your business appearing in search results? How about showing up on Google Maps? – That'd be useful! Believe it or not, you don't necessarily need a website for this…
You can create a listing for free at Google's business directory and include important information such as the address, services offered, and phone number. You can add photos to the profile, to really show off your company.
The listing then can show up locally, in Google search results related to your business. It'll also show when customers are looking for you on the map! It also provides a platform where customers can write you a review, and the more good reviews you get, the more likely you are to show in search results. A good review rating also generates trust in your business.
Once you've created a listing, you might want to improve its chances of ranking highly in searches. At Mahon Digital we're here to help, through our Search Engine Optimisation (SEO) Services!
2) Make use of Social Media
If you're reading this blog post, then you no doubt already have a personal Facebook Account. Here you'll interact with friends and family on a regular basis. You'll most likely have seen other businesses interacting on your news feed as well. Local pubs advertising events? Businesses advertising jobs? Special offers and discounts from big clothing manufacturers? You're one of their online customers!
In the same way, Social Media is the perfect place to build up your online business presence and engage with your customers. Create a Facebook page for your business, and ask your current customers to follow you. Here you can post updates, offers, photos and other content that users will be interested in.
If customers are happy with your products and services, they'll more than likely be happy to recommend you to their friends. Social media is the ideal platform for this, and in doing so you'll build more followers, and expand your business awareness, all with no financial cost!
If you'd like to further your social reach, then paid social media advertising solutions are also available. At Mahon Digital, we have experts in the Social Media field, who can help you reach a highly targeted audience. Find out more about our Social Media services.
3) Create a Website
A website acts as your 'Store Front' for the online world. If you're really looking to build your business in the online field, and perhaps sell products online, a website is definitely something you should think about.
Building a website may sound like a huge, and most likely challenging and time-consuming task. In a sense that's correct, it's going to take a good amount of time and some self-learning to build a website for the first time with no experience. However, with more and more demand for building websites, platforms such as WordPress have made the process more accessible. There are also free-to-use tutorial guides, so the task can be very approachable.
If you're looking to invest in a more advanced website, then a professional web design may be a great option for you.  At Mahon Digital, we offer full web design, and website rebuild services, via our sister company LonelyRobot web design. Get in touch, to discuss options today!
4) Word of Mouth!
Often, the best way of building awareness of your business in the local community, or on a larger scale is via your current customers and connections. A satisfied customer is likely to recommend your products and services to a friend or family member. Similarly, the person receiving the recommendation will most likely trust their friend!
The online world works in exactly the same way! Ask your friends, relatives and other business connections to link to you online. This could be via a social media post, a link to your website if you have one, or by sharing a post or piece of content that you've created.
Search engines such as Google take this into account as well. By using complex algorithms (maths), they look at the number of people who've linked to your business or talked about it online. The more you're mentioned, the better reputation you build. Websites with a better online reputation, are more likely to be shown in search engine results.
The Complexities of Search Engines
Once you've taken the steps mentioned above, you'll more than likely have started to benefit as a business from doing so. Perhaps at this time, you'll decide you want to grow your business further online? We feel the best place to be seen is in Google Search results!
You'll no doubt use search engines on a daily basis, to look for a product, service, or find an answer to your question. The websites that come up are those that, firstly answer the query you've made. The highest rankings will be those best optimised to meet the demands of the search engine algorithm.
Here at Mahon Digital, we have a team of experts. They know all about how the search engines work, and what they look for on web pages. We can build you a new website from scratch, or work with an existing site to do this.
Read about our Search Engine Optimisation (SEO) services for more information.
Another great way to get your business appearing in search results is through paid advertising options. You may or may not have noticed that the top search results sometimes have an [Ad} logo next to them. These are managed through an advertising platform called Google Ads. Here you can reach customers who are searching for particular keywords related to your business, in the desired location. There are a huge number of options, which we can tailor to your needs and generate the best possible return on investment.
Read about our Paid Search (PPC) Services for more information.
We hope you've found this useful, and have gained more of an insight into how you can start taking your own steps to get your business online. Please get in touch if you'd like more information or support in entering the Digital world for the first time.