Google has recently been putting a lot of effort in integrating its own tools (Google+, Google local / maps) together and display more listings in the main search engine results pages from these sources. This makes it the perfect time for your business to look at these tools, especially if you're competing in the local space.
So here are some tips on how to improve your business rankings for localised searches
What is a local search?
A local search is a search done for a specific set of keywords with a location in the search query (dentist SW19 in the example below). Historically, this search would have returned websites using these keywords within their content, but Google Places changed all that. By registering (and verifying) their company with Google, local businesses could achieve high rankings in SERPs since Google displays local results above "other" natural results (see example below).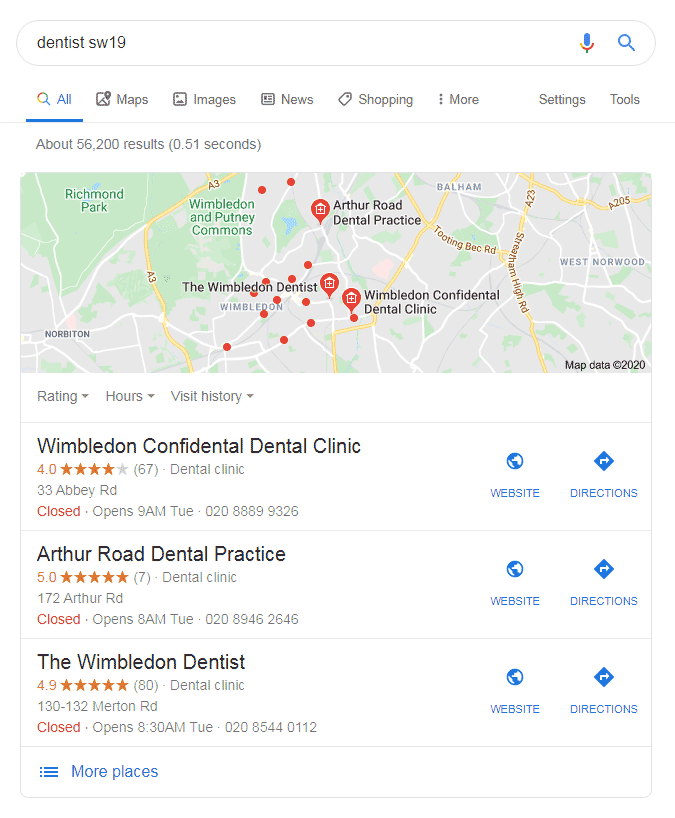 Why local searches matter for SEO?
Since local/places results get displayed above other organic results, it is easy to understand why companies need to be thinking about local searches when implementing their SEO. It is not only a great way to get good rankings, but also a means of quality traffic to a site.
Google now also automatically identifies your location if you're logged in to your Google account when doing a search, so even more generic searches may return local results based on google's index. And with an even greater integration between all of Google's tools (Google +, +1, Google + business pages…) the competiton to be at the top of local searches is going to increase further.
As more people browse the web use mobile devices (smarthpones / tablets), it is becoming increasingly important to be well established locally. Think how many users on smartphones may be looking for a restaurant near where they are for example. Google is taking location into account in the SERPs, so ensuring your local business shows in prime position can have a dramatic impact on your revenue.
How to achieve good local rankings?
Create a Google+ profile for your business and verify it
Register your business with Google + Local pages – this should be your first step in achieving good rankings locally. It is free and if you optimise your listing carefully (think important keywords for your business), it could bring great rewards
Ensure your website is geo localised – include location details in your website content
Submit your website to local and national directories – this will enable you to generate qualified traffic and improve your rankings if the directories in question include a link back to your site
Define the location of your site in Google webmaster tools – this is more country based, but helpful nonetheless.
In webmaster tools, go to configuration > settings > geographic target
Use the geo meta tags in your website HTML
Get as many reviews, preferably positive, and . These reviews/ratings will not only increase your position in local directories, but they will also give Google an indication of the relevance and popularity of your business (especially the +1's). They are votes of confidence for your business and will be displayed with stars next to your local listing (see the 5 star rating in the example above). After the recent scandal of fake reviews in Yelp (read more on this story) you'll have to be a bit sensible as to how you do it.
Web users trust reviews as well as their communities and friends's opinions in social media, so get them socially engaged about your business. Social signals such as +1, Likes, tweets…will all add to your SEO efforts and help you reach better positions in the SERPs
These simple tips should help your business perform better for local searches, which is critical if you work in a locally competitive environment (think dentists, doctors, vets, local shops, charity shops, restaurants, garages, plumbers….). And this should hopefully increase the number of enquiries your get from your website and Google.
We help a lot of small and local businesses achieve good rankings on a regular basis, so get in touch if you'd like us to have a look at your website and current digital activities.
About the author
Etienne is the Head of SEO here at Mahon Digital and he's been involved in the digital & search marketing industry for nearly 11 years now, working for small family owned businesses as well as international FTSE 500 companies. He's passionate about all things digital, but more specifically about digital & search strategy and marketing analysis.